15 Produk Skincare Lokal Paling Hype Tahun 2019
December 30, 2019
Menuju penutupan tahun 2019 yang tinggal 1 hari lagi (who's exciteddd?!!), saya mau bikin kumpulan produk skincare lokal terbaik yang sempat hype di sepanjang tahun ini, dan nggak hanya sekedar ramai dibahas tapi juga memang terbukti bagus. Siapa yang setuju kalau brand lokal di tahun ini udah makin inovatif banget?
Menurut saya tahun 2019 ini jadi awal hadirnya produk skincare yang benar-benar baru di jajaran produk skincare lokal yang nggak pernah dibuat sebelumnya. I mean, have you ever heard about retinol serum, anti-pollution setting spray, or a killer exfoliating toner products from local brand before 2019? Belum lagi di penghujung tahun sudah ada brand lokal baru yang mulai bermain dengan produk skincare customizable. Keren!
Ok. dari beberapa produk yang akan saya sebutkan, saya sejujurnya baru mencoba 5 produk dan sisanya saya rangkum dari beberapa produk yang menang Best of Beauty Award Female Daily dan Sociolla di tahun ini dan dari video skincare terbaik versi beauty vlogger seperti Suhay Salim, Kiara Leswara, Fatya Biya, Female Daily's Queen Bees, dan Danang Wishnu yang kebetulan juga bikin konten serupa.
Because its gonna be a long-ass blog post, let's start with product number 1 :
1. Wardah Perfect Bright Tone Up Micellar Water
Kalau dulu saya pernah suka produk Wardah Seaweed Cleansing Micellar Water, nah produk micellar water yang satu ini adalah jenis yang berbeda dari brand Wardah. Agak unik karena produk ini punya klaim bisa mencerahkan wajah selain fungsi dasarnya sebagai produk first cleanser untuk membersihkan wajah.
Kalau saya sih percaya kandungan produk cleanser juga tetap berpengaruh ke kulit walaupun pemakaiannya hanya dalam hitungan detik saja. Karena ada ingredient Niacinamide di bagian atas daftar ingredients, nggak heran sih kalau produk ini memang bisa bikin tampilan wajah tetap cerah sehabis penggunaan produk. By the way, this product is also featured by Kiara Leswara on her list. Nggak heran ya kalau Wardah masuk list, secara brand ini biasanya masuk jadi merk skincare lokal terbaik dengan produk-produknya yang keren.
2. Sensatia Botanicals Unscented Soapless Facial Cleanser
I know, ini sama sekali bukan produk baru alias udah terkenal dari beberapa tahun lalu. Tapi percaya deh, tahun ini nggak tau kenapa semakin banyak yang suka pakai produk facial wash dengan tipe basic kayak produk ini. I've read somewhere that there are more people than ever consider themselves to have sensitive skin nowadays. Mungkin karena polusi yang semakin nggak bisa dihindari, atau mungkin karena semakin banyak yang senang eksplor produk skincare, dan bisa juga karena berbagai penyebab lainnya.
Kalau kamu suka produk pembersih wajah Cetaphil Gentle Cleanser, chances are… you're gonna love this product as well. Tanpa parfum dan busa, produk ini aman digunakan untuk pemilik kulit sensitif. Saya pribadi nggak terlalu suka jenis cleanser yang seperti ini, i like mine to be (moderately) foamy dan ada wewangiannya. Tapi karena semua orang nggak berhenti bahas produk ini, i guess it deserves a spot on the list.
3. Skin Game Pore Rescue + First Aid Mask
Duo produk masker wajah dari brand lokal satu ini adalah jawaban buat kamu yang punya kulit berjerawat, pori-pori tersumbat ataupun komedo. Kedua produk bisa dijadikan sebagai masker wajah ataupun spot treatment, dan saya baca banyak yang merasa terbantu dengan unorthodox star ingredient racikan Skin Game. Selain membasmi jerawat, kandungan Calamine pada produk juga bisa sekaligus menenangkan kulit berjerawat yang meradang. Sungguh combo yang menarik banget!
Beberapa bulan lalu saya mewawancarai Michella, founder brand Skin Game untuk artikel Female Daily. Saya sempat penasaran dengan pemilihan ingredient Calamine pada produk mereka, artikelnya bisa dicek di blog Female Daily ya!
By the way saya masih suka sekali konsep masker bubuk yang harus kita racik sendiri sebelum dipakai. Rasanya seru aja me time sambil bikin masker DIY gitu. Tapi nggak perlu khawatir, di dalam paket produknya juga sudah disediakan mask mixer jadi nggak perlu beli produk terpisah atau pakai air sembarangan.
4. Lacoco Amazonian Charcoal Glow Mask
Sebagai pengabdi tipe masker pembasmi masalah pori-pori seperti clay mask dan charcoal mask, saya memang nggak pernah bosan mencari produk masker ini. Karena buat saya, produk masker itu fungsi dasarnya adalah deep cleansing untuk membersihkan pori-pori kulit dari sisa kotoran ataupun minyak berlebih. Dan menurut saya produk masker dengan tipe clay mask nggak akan kehilangan fans karena di Indonesia banyak sekali pemilik skin type berminyak karena faktor iklim tropis.
Lacoco Amazonian ini menarik banget karena ketika dipakai ada sensasi cooling yang kata sebagian orang berasa seperti pakai odol di muka hehe. Dan dia juga punya kandungan apricot scrub jadi setelah produknya mengering di muka, kita bisa membersihkan sambil sedikit melakukan scrubbing. Kayaknya produk ini bisa banget menggeser masker favorit sepanjang masa versi saya dari brand luar. Ada yang bisa tebak produknya?
5. Hale Let's Clay! Licorice, Green Tea & Charcoal Clay Mask
What a long product naming! Tapi nggak apa-apa, karena masih banyak memang yang belum terdorong untuk baca ingredient list jadi sekalian aja ingredients-nya dicantumkan pada nama produk hehe. Brand skincare Hale ini termasuk yang paling anyar di antara produk dalam list kali ini. Kenapa saya masukkan list? Because the brand's concept, and the product looks promising.
Hale punya konsep clean beauty dengan klaim no fragrance, no simple alcohol, no irritating plant extract and oils, dan no animal testing yang mereka cantumkan secara jelas pada bio instagram resmi brand Hale. Walaupun produk pertama mereka adalah clay mask yang biasanya kurang friendly untuk kulit sensitif, tapi mereka mengklaim kalau produk nggak akan harsh di kulit karena nggak mengandung potential irritant ingredients.
Terus saya juga appreciate banget cara mereka kasih rekomendasi step penggunaan produk pada skincare routine yakni sebagai tahap cleansing sebelum penggunaan rangkaian skincare lainnya. Karena memang fungsi clay mask untuk membersihkan pori-pori secara maksimal supaya produk skincare selanjutnya bisa menyerap lebih baik ke dalam kulit. There's so much to talk about, but i'll save it for next blogpost kalau saya udah cobain produknya ya.
6. Avoskin Miraculous Refining Skin Toner
Kalau buat saya sih, produk ini juara pertama best local skincare product of the year banget! Jadi salah pemenang Best of Beauty Award Female Daily tahun ini, banyak dibahas dimana-mana dan saya sempat notice produk ini jadi satu-satunya produk lokal yang masuk list produk skincare holy grail-nya queenbees Female Daily Network. Bayangin, si produk lokal ini nyelip di antara jejeran produk skincare high end semua!
And as for me, i'm on my second bottle now dan saya kasih spoiler sedikit nih ya. Menurut saya produk exfoliating toner ini lebih jagoan dibanding toner legend berbotol hijau yang dulu saya bangga-banggain hehe. Active ingredient-nya aja jauh lebih lengkap (AHA, BHA, PHA all at once) tapi tetap gentle di kulit saya yang sensitif. Bingung nggak tuh?
Okay i already talk too much, mendingan cobain sendiri biar ngerti. Oh iya, masalah harga, produk ini terbilang murah banget untuk exfoliating toner dengan bahan aktif yang beragam.
7. BHUMI Resurface Mild Exfoliating Toner
Nah, kalau kamu mau cobain produk exfoliating toner untuk pertama kali tapi masih takut-takut, produk BHUMI Resurface Mild Exfoliating Toner ini menurut saya akan aman banget di berbagai tipe wajah bahkan yang kulitnya sensitif. Dia punya kandungan AHA dan BHA 2% yang nggak begitu tinggi, dan ditambah adanya ingredient "penyelamat" seperti Hyaluronic Acid, Ceramide dan Rosehip Oil supaya kulit nggak terlalu kaget dengan kandungan aktif produk ini.
Terus saya juga naksir banget sama packaging produk dari brand skincare lokal satu ini dan konsep brand-nya secara keseluruhan yang Indonesia banget. Oh iya, produk ini juga difitur oleh Fatya Biya di video Best Skincare 2019 versinya.
8. Elsheskin Radiant Skin Serum
Ini salah satu brand skincare yang tadinya saya nggak terlalu penasaran. Tapi ternyata di tahun 2019 semakin banyak yang bahas bahkan sampai menang di Best of Beauty Sociolla sebagai produk serum terbaik. Setelah saya baca – baca ternyata banyak yang senang menggunakan produk ini karena ampuh banget untuk mencerahkan wajah kusam. Ternyata, brightening active ingredients-nya ada banyak, di antaranya ada Arbutin, Glutathione dan Niacinamide. Hm…jadi pengen nyobain juga nih!
9. Somethinc Niacinamide + Moisture Beet Serum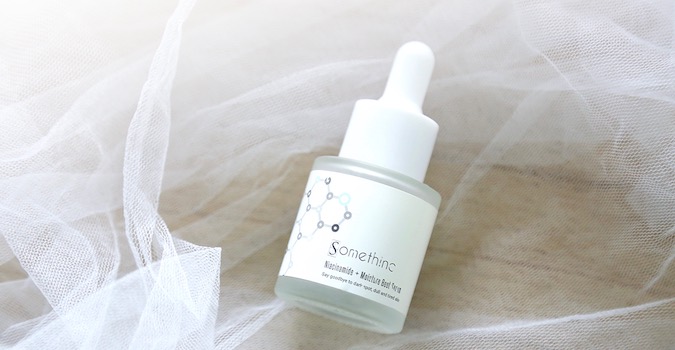 Oke. Kayaknya nggak usah dijelasin terlalu panjang karena saya baru aja nulis battle serum Niacinamide milik Somethinc ini versus punya The Ordinary yang sudah saya repurchase berkali-kali. Saya langsung nyetok serum ini di pembelian kedua, dan jujur saya belum pernah nyetok produk skincare sebelumnya karena saya lebih senang eksplor produk baru alias gonta-ganti skincare. By the way, brand Somethinc ini menang award Best Newcomer Local Brand pada penghargaan Female Daily Best of Beauty Award tahun 2019 ini. A well deserved award!
10. For Skin's Sake Retinol Serum
My very first retinol serum! Sebenarnya tiap kali pemakaian rutin selalu ada muncul jerawat dan kemungkinan itu purging, (bukan breakout ya) tapi karena saya parno jadi selalu di-stop sementara dulu kalau kulit tiba-tiba jadi berjerawat. Padahal nih kalau baca review orang-orang, katanya serum retinol dari FSS ini termasuk ringan di kulit dibanding produk retinol lainnya.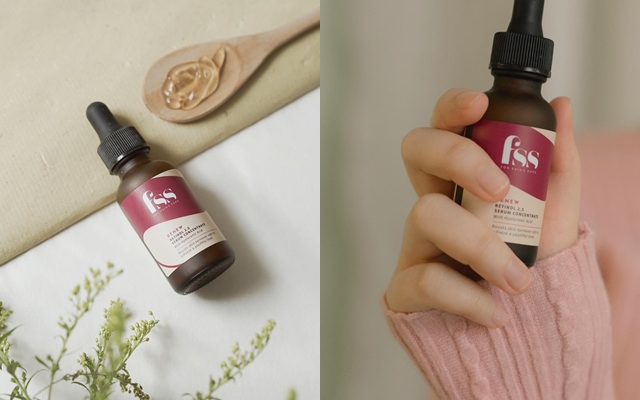 Banyak yang bilang juga kalau produk ini memang tricky banget penggunaannya, kita harus pintar-pintar cari formulasi yang tepat di rangkaian skincare. Misalnya dengan mencampur produk serum ini dengan face oil atau moisturizer atau dengan layering produk yang menghidrasi sebelum dan setelah step penggunaan serum ini. Karena saya penasaran banget sama efek anti aging dari retinol, kayaknya saya akan nyobain lagi nih produknya dalam waktu dekat.
11. Kleveru Glass Skin Overnight Serum
Masih barisan produk serum, brand Kleveru sebenarnya masih cukup jarang saya dengar tapi sempat dibahas oleh Danang Wisnu sebagai salah satu produk exfoliant paling favoritnya di tahun ini. Produk Kleveru Glass Skin Overnight Serum ini sebetulnya adalah exfoliating serum yang punya kandungan AHA dan BHA.
Target utamanya pasti mengangkat sel kulit mati dan mendorong regenerasi sel baru untuk tampilan kulit wajah yang lebih halus dan sehat. Ada banyak yang bilang produk ini bekerja secara maksimal sebagai exfoliating toner tapi ada juga yang mengalami breakout. Tebakan saya, sepertinya produk ini termasuk serum yang agak tricky jadi harus menggunakan hydration layering supaya nggak terlalu keras di kulit.
12. Everwhite Brightening Essence Serum
Produk serum selanjutnya datang dari rekomendasi beauty vlogger Suhay Salim. Nggak tanggung-tanggung, Suhay memasukkan produk ini ke dua video sekaligus sebagai salah satu dari serum favoritnya sekaligus produk skincare terbaik di tahun ini versi Suhay. Kalau kamu cocok menggunakan skincare dengan kandungan Vitamin C, serum ini mungkin akan jadi andalan kamu. Selain kandungan Vitamin C dia juga punya Niacinamide sebagai brightening actives lainnya. Kalau menurut Suhay, produk ini bagus banget untuk mencerahkan wajah kusam, dan jadi saingan ketat produk Somethinc Niacinamide Serum.
13. Studio Tropik Flawless Priming Water
Masuk sebagai pemenang produk face mist terbaik versi Sociolla Best of Beauty 2019, priming water dengan botol pink ini menurut saya memang produk terbaik dari brand Studio Tropik. Dibandingkan dengan versi botol biru yang Original, varian Flawless ini bikin makeup jadi lebih menyatu dan halus di kamera ataupun real life, at least di saya hehe.
14. Luxcrime Duo Lip Care
Saya mau apresiasi dulu brand Luxcrime karena sudah melahirkan produk lip care walaupun tidak sedang ada tren di brand-brand yang lain untuk jenis produk ini. Saya baru lihat lho ada produk lip balm sekaligus lip scrub dalam bentuk packaging dual-ended yang menurut saya compact banget! Saya sebenarnya suka banget pakai lip scrub tapi nggak mau repot nyolek-nyolek pakai jari dari jar seperti pada produk lip scrub biasanya. Tapi dengan adanya produk ini jadi nggak ada alasan lagi buat mager merawat bibir deh!
Beberapa waktu lalu saya dapat produk Luxcrime Duo Lip Care ini dari giveaway Luxcrime bersama Esqa tapi nanti akan saya bahas kalau paketnya sudah sampai ya! Can't wait to try em!
15. Studio Tropik Dream Setter Setting Spray
Kalau saya nggak salah, Studio Tropik Dream Setter ini jadi produk setting spray lokal pertama yang beneran dipasarkan sebagai produk setting spray. Launch pertama kali saat Jakarta X Beauty 2019 beberapa bulan lalu, saya jadi salah satu saksi gimana hebohnya orang-orang yang sampai rela ngantri mengular demi jadi orang yang pertama nyobain produk ini.
Saya juga masih selalu pakai setting spray ini terutama kalau sedang makeup agak niat. Oh iya, menurut saya produk setting spray bisa dikategorikan sebagai skincare ya karena produk Dream Setter ini kan memang punya ingredient untuk melindungi kulit dari polusi udara. So it meant to take care of our skin too, selain untuk mengunci makeup supaya tahan lebih lama.
Pegel juga ternyata ngetik list ini hehe. Gimana, ada produk favorit kamu nggak di list ini? Kasih rekomendasi skincare lokal yang bagus menurut kamu juga ya di komen!
Btw rekomendasi makeup, fashion dan racun produk gemas lainnya boleh cek disini yaaa : racun belanjaan
You May Also Like
April 1, 2018